I have been waiting to wear this kimono for quite some time now, but like with all things in life, some have to wait. It's amazing how sometimes the most contradictory things come together in harmony: here a necklace from Tibet, an authentic vintage Japanese kimono and the most American thing you can imagine- jeans, became part of the same look for me. A truly, East meets West kind of combo.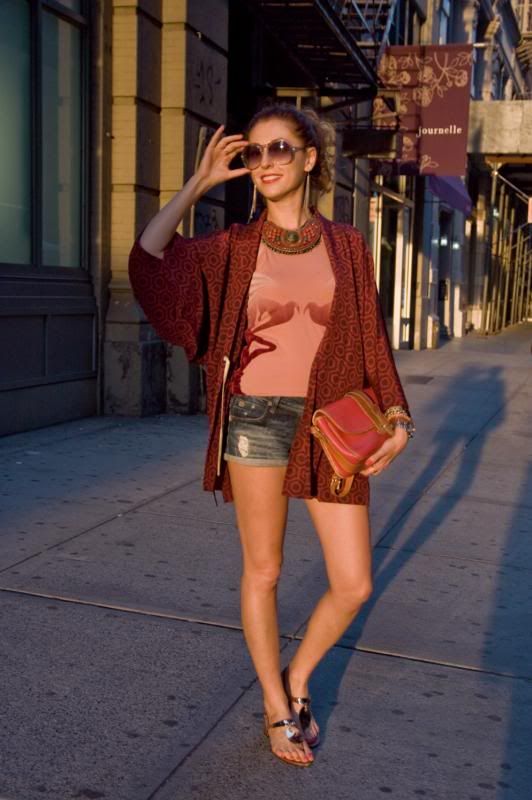 Кимоно / Kimono-
vintage / винтаж
(
modern version here
)
Колье / Necklace- куплено у уличного торговца в Непале / bought from a street vendor in Nepal
(Love this one
)
Топ / Top-
Plein Sud
Шорты / Denim shorts-
Zara
(
similar here
)
Сумка / Bag - vintage
Dooney and Bourke
(
love this one
)
Сандалии / Sandals-
Pour la Victoire
Очки / Sunnies-
vintage / винтаж
Watch-
Rolex
Браслеты / Bracelets-
Banana Republic, presents
Кольца / Stackable rings-
Banana Republic
Серьги / Earrings-
no name
На губах / Lips-
Clinique,
RedRedRed
Моя любимая Хая приехала в гости и я уже не могу дождаться когда увижу ее опять, на следующей неделе, когда она вернется из Коннектикута.
А на втором фото, пример с улиц НЙ, в догонку к моим предыдущим постам
тут
и
тут
, о укороченых топах.
My dear friend Khaya is in town until next week and I can't wait to see her again in a few days, after she's back from Connecticut.
And, to follow up on the previous two posts on cropped tops here and here, below is my first example from the streets of NY.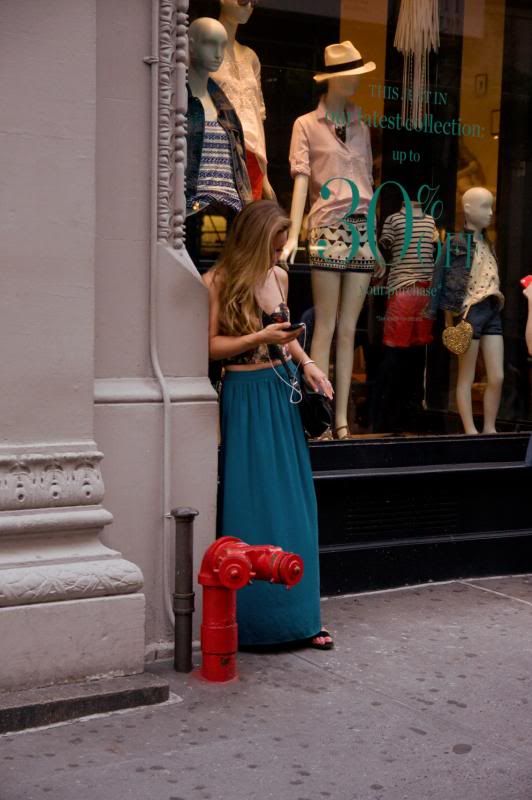 Я давно ждала, чтоб выгулять это кимоно, но как и во всем в жизни, каким-то вещам приходится ждать дольше. Удивительно, как иногда самые противоположные вещи соединяются в один образ: колье из Тибета, настоящее, винтажное кимоно из Японии и самый американский предмет одежды- джинсы, слились для меня в один образ. Вот уж точно- встреча Востока и Запада!